Venues (Magoffin Auditorium)
Magoffin Auditorium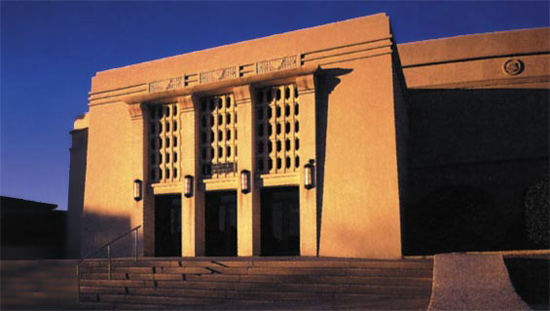 Magoffin Auditorium is UTEP's largest lecture hall, doubling as a concert hall for smaller events such as comedy and dance performances, musicals, plays, and small concerts. It features superior acoustics and one-level seating with clear sight lines. The auditorium has 1,152 permanent theater seats and 10 wheelchair spaces. Home of Lola Production's Signature Series.
Past performances at the auditorium include Swan Lake Ballet, Nutcracker Ballet, Miss El Paso, Cesar Lozano, Enrique Chia, Sun City Regional Bodybuilding, Michael W. Smith, Rogelio Ramos, Preservation Hall Jazz Band, Ladysmith Black Mambazo, Rene Mey, Max & Ruby, The Avett Brothers, Miss Earth Texas, Jim Breuer and Bellydance Superstars.
Click here to download Magoffin Auditorium capacity map.
Magoffin Auditorium Specifications
Stage:
Proscenium: height 19' 8"; width 39' 2"
Stage depth: 36' 10" (proscenium line to back wall)
Curved apron depth: 10' 6" and 12' 10" max (additional 6' with orchestra pit covered)
Wing space: SL 21' 0"; SR 17' 0"
Hardwood stage floor, painted flat black
Distance from proscenium line to first available batten: 3' 1"
Distance from proscenium line to cyc: 30' 6"
Distance from cyc to back wall: 6' 4"
3 pair of black masking legs
3 black borders
1 blue, flat cyc
1 teaser and 1 blue house curtain
1 black traveler at mid-stage
Orchestra pit (opening: 6' 0" wide; pit: 7' 8" deep)
Portable wooden cover for orchestra pit
Acoustical shell flown on 3 battens
Matching standing acoustical shell
Movie screen on batten
No balconies
1 White scrim
1 Black scrim
Rigging:
Fly rail elevated 22' 0" on SR wall
Weight loading floor: 18' 0" above fly floor
Grid: 46' 11" above stage
40 line sets (5 are electrics)
Arbors take maximum 750 lbs. each
Type of rigging is 1:1
Typical batten/pipe length: 47' 0"
Maximum height batten/pipe can fly: 43' 0"
Hanging Plot
Sound:
JBL house speakers
QSC MX 2000W amplifiers
Yamaha 2404 house mixer
ClearCom intercom system (3-pin XLR jacks on stage, in spot booth, on fly floor, and in light and sound booths)
2 Electro Voice monitor wedges on stage, powered by Peavy 600 mixer-amp
Lighting:
Production control and patch panel located SR
Power available at production control: 50 amps, 110v
Additional 200 amps, 208v 3 phase/4 wire service located on backstage right wall
House light board: ETC Express 72/144
Dimmer: Kliegl SCR
188 load circuits: 20A each
2 50A circuits on US back wall
Slider patch panel on DSR wall
60 dimmers (1-40: 3 kw; 41-60: 7 kw)
1st FOH: 17' from curtain and elevated 43'
2nd FOH: 46' from curtain and elevated 29'
Followspot booth on second FOH
2 followspots: Lycian Star K Lite 1271
5 7' sections of 3-color strip lights
Stage connectors are 3-pin ground
No footlights
Semi-Permanent Light Hang – Call for details
Loading:
Loading door located between Fine Arts Complex and Magoffin Auditorium on bottom floor
Stage loading via elevator located USL
Large trucks will not fit on loading ramp. Please call about loading.
Dressing Rooms:
Large chorus dressing room with restrooms on each side of stage
Two smaller dressing rooms and restrooms downstairs, stage right
Dressing rooms with showers upstairs on each side of stage
Other Information
Tickets:
Box Office:
Merchandising:
30% plus 8.25% state sales tax (Artist sells)
Stage Hands:
Combined El Paso Production Staffing/Student crew
Pyrotechnics:
Please call the facility 915-747-5481
(must have Texas licensed technician)
Insurance:
$1 million policy with UTEP additionally insured
Driving Directions to Magoffin Auditorium
From Interstate 10 (East):
Take the Schuster/Sun Bowl exit (18A) to Sun Bowl Drive. Turn left at the light (Schuster Avenue). At the next light (Sun Bowl Drive), take a left onto Sun Bowl Drive. Continue towards the roundabout and go straight. Parking is available at the Sun Bowl Parking Garage on the right.
From Interstate 10 (West):
Take the Schuster/Sun Bowl exit (18A) to Sun Bowl Drive. Proceed onto Sun Bowl Drive. Continue towards the roundabout and go straight. Parking is available at the Sun Bowl Parking Garage on the right.